Dallas Trade Secret Lawyers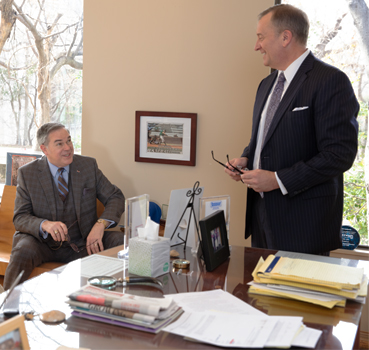 The Texas trade secret attorneys at Kilgore & Kilgore work against threats that can undermine an organization's competitive advantage. Our seasoned intellectual property lawyers understand trade secret protection in Texas common law, and uniform trade secret protection in other states.
Businesses work rigorously to protect their intellectual property in today's highly competitive global marketplace. Whether it is an ingredient or formula, source code or device, commercial relationship, strategic method or process, protecting it from misuse by competitors and former employees is critical. We are committed to helping safeguard a client's valuable business assets. Kilgore & Kilgore also assists individuals and companies with patent infringement, copyright infringement, trademark protection and litigating licensing matters.

Handling Trade Secret Litigation
In addition to handling employee rights and employment-related concerns, our trade secret attorneys provide leverage to businesses and people involved in buy-out or separation disputes. When employees misappropriate trade secrets, we can put an immediate halt to unauthorized use through a preliminary injunction, demonstrating a substantial threat of irreparable harm, providing an improved likelihood of success in subsequent trade secret litigation. Matters often end there. Whether clients choose to pursue damages depends on their business objectives and other factors.
A Global Reach
We serve clients throughout the United States, Europe and Asia. A few examples include the following:
Defended a Chinese business against a trademark infringement lawsuit in Dallas.
Represented a Hong Kong investor in its claims to a fashion industry trademark and trade name.
Defended an Italian design company's copyright protecting a line of jewelry in a copyright infringement matter.
Satisfied Clients Tell Us
Click on this link to read some of the many client testimonials that people have sent to thank our trade secrets attorneys for getting them back on track. Kilgore & Kilgore can do the same for you.
Build a Law Team
Kilgore & Kilgore respects established relationships with corporate counsel and frequently joint ventures with other lawyers representing companies wishing to create legal teams with adequate resources. We receive most of our business referrals from other lawyers. When a conflict arises or there is a need for local or trial counsel, we stand ready to support the team in whatever configuration makes the most sense for achieving the best outcome.
Reach Out to Us
We are committed to helping victims of trade secret theft find justice. To learn more about our intellectual property practice or to schedule an appointment to discuss matters in confidence with a trade secret attorney at our Dallas office, contact us. We offer a free review of the facts of your case with a Kilgore & Kilgore attorney to help you understand your situation from a legal perspective and whether or how to proceed with an action.
Testimonial
"Ted is someone I trust to create results and be clear and direct about the truth of a situation."
– AA, Chief Executive of Beauty Products Company, Intellectual Property Dispute, 2008
Article
Avoiding the Theft of Trade Secrets Trap
– If you leave your company to work for a competitor or start a competing business, the question is when, not if, your former employer will file a theft of a trade secret claim against you and…
Read More