Build a Law Team As Needed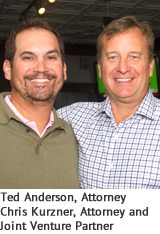 Kilgore & Kilgore is respectful of established relationships with counsel and frequently joint ventures with other lawyers representing individuals and companies wishing to create legal teams with adequate resources for discovery, research and litigation. We receive most of our referrals from other lawyers. When a conflict arises or there is a need for local or trial counsel, we stand ready to support the law team in whatever configuration makes the most sense for achieving the best outcome.

"For a recent case, I required additional legal resources and turned to Kilgore & Kilgore. We formed a joint venture and pursued the matter, which was settled during litigation, to the satisfaction of my client. I found the personnel and experience at Kilgore & Kilgore to be top notch, as expected. I would use them again and recommend Kilgore & Kilgore without reservation." Christopher L. Kurzner, Esquire, Kurzner P.C. Prior results do not guarantee similar outcomes in the future.

"I have teamed up with Kilgore & Kilgore on a half dozen matters over the last three years. Our relationship has been a successful and rewarding one. Kilgore & Kilgore has the staff I need, as a sole practitioner, to augment my practice and develop the best cases possible for my clients, and ultimately, to achieve the best results for them. Kilgore & Kilgore has a high level of professionalism and experience in both their attorneys and staff that immediately increases the value of a lawsuit. Best of all, they make me feel like part of the firm." Clay Hartmann, Esquire, The Hartmann Firm. Prior results do not guarantee similar outcomes in the future.